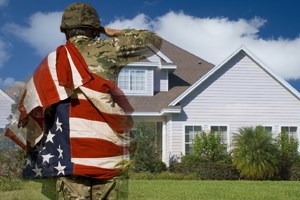 VA loans are home loans for the purchase of a primary residence available to consumers who have served or are presently serving in the U.S. military. While the Department of Veterans Affairs (VA) does not lend money for VA loans, it backs loans made by private lenders (banks, savings and loans, or mortgage companies) to veterans who qualify. See Your Rate, Only Takes 30 Seconds
What Are the Benefits of a VA Mortgage Loan?
There are many, as taken directly from the Veterans Affairs site:
◾No down payment required (unless required by the lender or the purchase price is more than the reasonable value of the property).
◾Buyer informed of reasonable value.
◾Negotiable interest rate.
◾Ability to finance the VA funding fee (plus reduced funding fees with a down payment of at least 5 percent and exemption for veterans receiving VA compensation).
◾Closing costs are comparable with other financing types (and may be lower).
◾No mortgage insurance premiums.
◾An assumable mortgage.
◾Right to prepay without penalty.
◾For homes inspected by VA during construction, a warranty from builder and assistance from VA to obtain cooperation of builder.
◾VA assistance to veteran borrowers in default due to temporary financial difficulty.
Funding Fee
All VA loans require a VA funding fee. Exceptions may be made to veterans with service-connected disabilities and to surviving spouses of veterans who die in service or from service-connected disabilities. All or part of the fee may be paid in cash at loan closing or may be included in the loan without regard to the reasonable value of the property or the computed maximum loan amount, as appropriate.  See Your Rate, Only Takes 30 Seconds
Regular Military/Navy

Reservist/National Guard

Purchase Loan – Zero Down
2.15%
2.40%
Purchase Loan – 5% Down
1.50%
1.75%
Purchase Loan – 10% Down
1.25%
1.50%
Refinance Loan
2.15%
2.40%
Certificate of Eligibility

After establishing that you are eligible, you will need a Certificate of Eligibility (COE). The COE verifies to the lender that you are eligible for a VA-backed loan. Click Here for instructions for how to order a Certificate of Eligibility (COE).

Request Your Military Service Records Online, by Mail, or by Fax

Request Your Military Service Records Online, by Mail, or by Fax including DD 214/Separation Documents, Personnel Records, and/or Medical Records) Click Here